Whoah! We're going 'Back 2' Ibiza!
After a sell-out show in 2021, we are pleased to announce we will be returning to Ibiza Rocks Hotel in 2022!
FREE NIGHTS STAY OFFER! - Book today and get a free night's stay at Ibiza rocks hotel on the 4th of October 2022!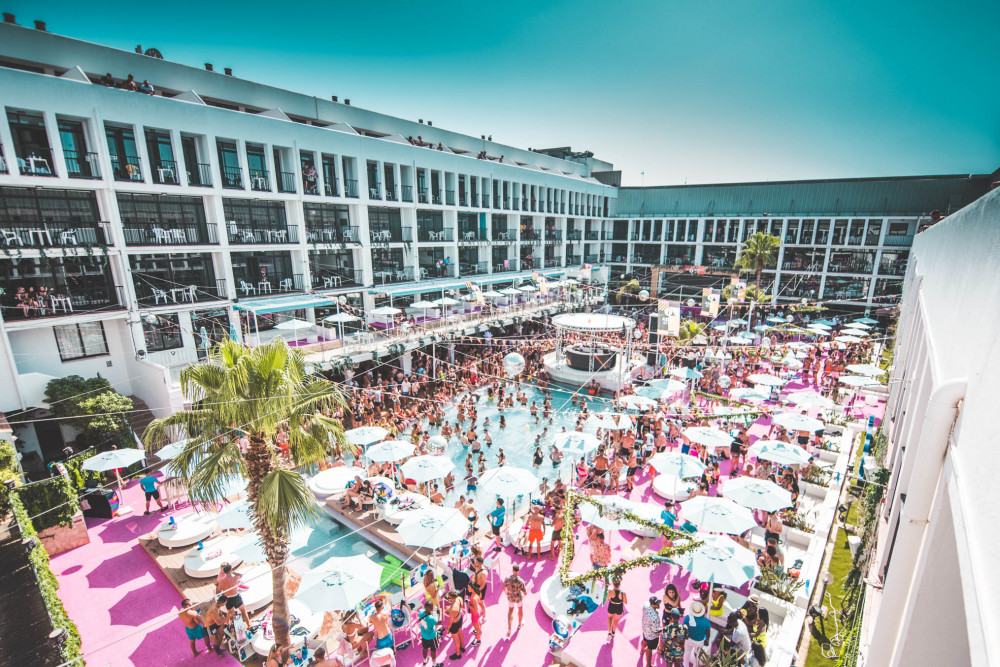 Back 2 Ibiza is a celebration of all the very best music from the 80s, 90s, and 00's! The event will include live performances from original acts and DJs. The full lineup will be announced soon.
Hotel Check-in Time: Tuesday 4th from 09:00
Hotel Check-in Time: Sunday 9th
EVENT STRUCTURE:
Wednesday 5th October - Poolside Pre-Party
Thursday 6th October - Festival Day 1
Friday 7th October - Boat Party (Additional ticket required)
Saturday 8th October - Festival Day 2
Sunday 9th October - Check-out Day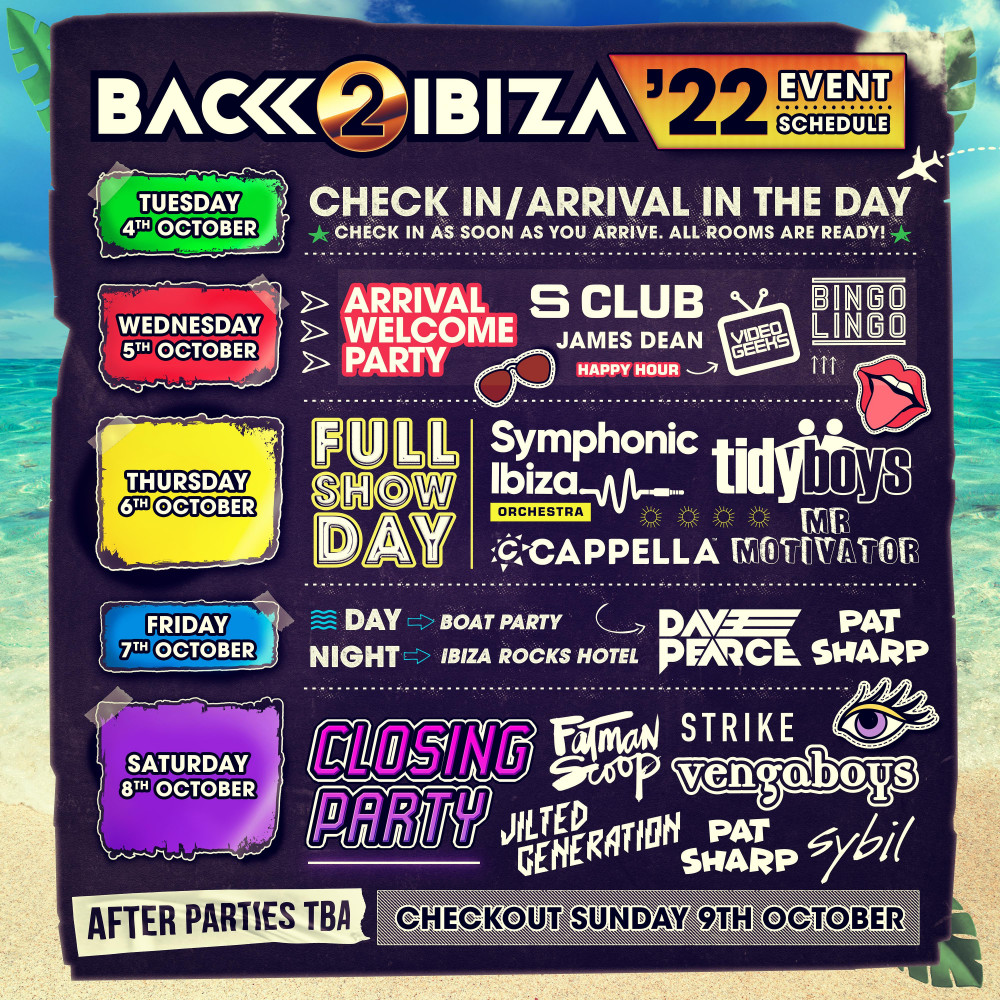 ACCOMMODATION AT IBIZA ROCKS HOTEL:
When you book your ticket via Ontick, this includes your accommodation and any festival days at the Hotel, this also includes the pre-party and any afterparties in the Hotel. However, your ticket does not include any afterparties outside the Ibiza Rocks Hotel or the Boat Party. Boat Party tickets can be booked in advance on this site.
We have 3 room types:
Event View Rooms - Rooms within the Main Arena. (Please see the ticket list for view descriptions)
Standard rooms - All other room types within the hotel apart from basic.
Basic rooms - A simple room for those that just want somewhere to sleep.
Photos of the rooms can be found here: www.ibizarocks.com
During your stay, you can relax at Ibiza Rocks Hotel and use their facilities at your leisure. However, the main arena may be closed for festival preparation at times.
BOAT PARTY:
On Friday 7th October, we will be operating a boat party for our customers. This is an optional extra and an additional ticket needs to be purchased. If you do not wish to attend the boat party then you can treat this as a free day to chill at Ibiza Rocks or explore the island.
SPREAD THE COST OF YOUR BOOKING!
We are pleased to offer payment plans on all Back 2 Ibiza 2022 bookings via Ontick. You'll be able to book your place today with just a 25% deposit and then make easy monthly payments after this. The cost can be spread over 3 or 6 monthly payments. You can select these during the checkout process.
PAYMENT PLANS T&C: Customers choosing to use the Payment Plan to pay for their tickets will be subject to a 15% booking fee. If you don't pay all of the installments you risk losing your order. No claim can be made to recover this money should you fail to make all the payments. All deposits are non-refundable.
TICKET PROTECTION: If you want to protect your booking you can add ticket protection during the checkout process. If you choose not to add this then your booking will be non-refundable. Full T&C's can be found here: https://refundable.me/extended/en/
Please note: Flights and Transfers are not included in this package. You will need to arrange this yourself. Flights are always cheaper the sooner you book them and some great deals can be found on SkyScanner.com
FREQUENTLY ASKED QUESTIONS:
Q. What is the age limit for this event?
Back 2 Ibiza is strictly an over 18's only event.
Q. Do I need to know all the names of the people in my room to book?
No, you can book a room and tell us the names later. However, we will need passport details for all the guests staying in your room at least 3 months before the event starts.
Q. Do I need to pay Spanish Tourist Tax?
Tourist Tax is included in the cost of your booking for the time you stay at Ibiza Rocks. However, if you stay outside of rocks or spend any additional time on the island you'll be responsible for paying your own tourist tax.
Q. I haven't received my booking confirmation and/or E-ticket, what do I do?
Please email [email protected]
Q. What is the refund policy?
If you want to protect your booking you can add ticket protection during the checkout process. If you choose not to add this then your booking will be non-refundable. Full T&C's can be found here: https://refundable.me/extended/en/